Commissioner's Digital Challenge
The Commissioner for Children and Young People (SA) challenges children in South Australia to complete four coding / digital thinking activities during 2019.
This challenges Cub Scouts and Scouts across South Australia to enjoy fun and innovative activities that are free, step-by-step and suitable for every level of skill and experience to earn their exclusive 'Speak Robot' badge.
All children in South Australia are invited to take part in the Challenge here: https://commissionersdigitalchallenge.net.au/outside-school/scouts-sa-speaking-robot/
The Challenge opens on 29 January 2019 and closes on 27 September 2019.
Each of the activities are:
Around one hour or less
Are online
Free
Accessible and Inclusive
You can choose any four lessons you like. Try coding with Star Wars®, Frozen®, Moana®, Angry Birds®, NBA® and Minecraft®, build a musical instrument, make a rock, paper, scissors game, make a bracelet that hides a secret message using binary code. There are hundreds of lessons to choose from – some that can even be completed without devices.
There's a page of recommended activities for those with no prior coding experience.
Even if you are taking part in the Challenge at school, you can take part as many times as you like outside of school!
The 'Speak Robot' badge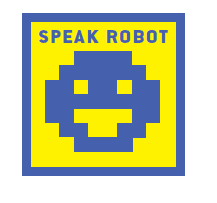 Each Youth member is entitled to one 'Speak Robot' badge only.
The 'Speak Robot' badge could be used towards earning other badges like:
Information Technology
Technology
STEM and Innovation
Venturers can speak to their Leader to discuss conducting sessions where they take a group of Cubs or Scouts through each activity as part of their Award Scheme.